"Waiting On" Wednesday is a weekly event, hosted by
Breaking the Spine
, that spotlights upcoming releases that we're eagerly anticipating.
The Boy Who Lost Fairyland
by Catherynne M. Valente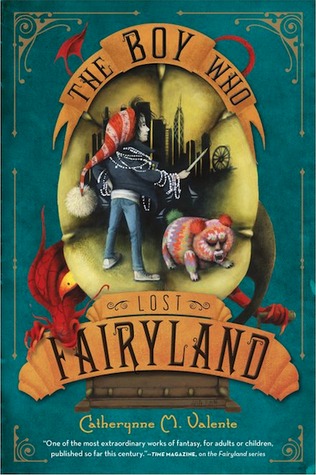 Series:
Fairyland, #4
Release Date: March 3rd 2015
Publisher: Feiwel & Friends
Format: Hardcover
Pages: 256
Genre: Young Adult – Fantasy
Author: Website | Twitter | Facebook | Goodreads
Buy it: Amazon | The Book Depository
Add it: Goodreads
When a young troll named Hawthorn is stolen from Fairyland by the Golden Wind, he becomes a changeling – a human boy -- in the strange city of Chicago, a place no less bizarre and magical than Fairyland when seen through trollish eyes. Left with a human family, Hawthorn struggles with his troll nature and his changeling fate. But when he turns twelve, he stumbles upon a way back home, to a Fairyland much changed from the one he remembers. Hawthorn finds himself at the center of a changeling revolution--until he comes face to face with a beautiful young Scientiste with very big, very red assistant.
I CAN NOT WAIT for this book! The covers of all these books are absolutely gorgeous! I miss the long title though, that was part of the appeal of these books. This is a series that I am actually caught up on too so I don't have to wait to read it! I can say thought that the third book in the series did get a little boring in parts so I'm hoping since this one is from a different characters pov that I might get more interested in it again. But really though… Why is March so far away!! There is also going to be a 5th & 6th book! I can't wait to see where this is going.
What book are you looking forward to?