This One Summer
by Mariko Tamaki
Illustrator: Jillian Tamaki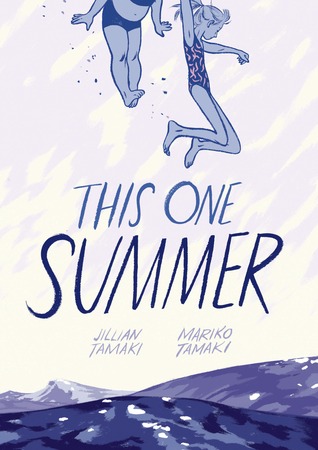 Release Date
:
May 6th 2014
Publisher:

First Second
Format: Paperback
Pages: 320
Genre: Young Adult – Graphic Novel, Realistic fiction
Source: Library
Author: Website | Twitter | Facebook | Goodreads
Buy it: Amazon | The Book Depository
Add it: Goodreads
Every summer, Rose goes with her mom and dad to a lake house in Awago Beach. It's their getaway, their refuge. Rosie's friend Windy is always there, too, like the little sister she never had. But this summer is different. Rose's mom and dad won't stop fighting, and when Rose and Windy seek a distraction from the drama, they find themselves with a whole new set of problems. It's a summer of secrets and sorrow and growing up, and it's a good thing Rose and Windy have each other.
In This One Summer two stellar creators redefine the teen graphic novel. Cousins Mariko and Jillian Tamaki, the team behind Skim, have collaborated on this gorgeous, heartbreaking, and ultimately hopeful story about a girl on the cusp of her teen age—a story of renewal and revelation.
I can't really say that I was disappointed in this book because I didn't really have any expectations for it. I went into it completely blind. I had only picked it up from the library because I had heard someone talk about it before. If my memory serves me right though, that person wasn't the biggest fan of it either so I guess I went into the book knowing that.
The first main point about a graphic novel is the artwork. Obviously the artwork can really make or break a graphic novel. I enjoyed the artwork in this book it was pretty standard drawing but instead of being different shades of gray, it had a blue hue to it. This was different from any other graphic novel I have read so I did enjoy that. The book has different types of panels, such as square and rectangle, but it also has full page and double full page pictures also. That was pretty much all I enjoyed about the book though.
The story itself was pretty boring to me. It follows around a young girl, Rose, who has been coming to this lake house with her family for many years. She has a friend that she has made over the years that also has been coming to the lake. However, this girl is two years younger than her and you can tell in the story that the girl is a little more immature than the main character. I felt like Rose was sometimes sort of a jerk to her friend Windy. Rosie's parents are having problems of their own while at the house and you can see how Rosie is dealing with everything. Rosie and Windy have distracted themselves with rated R movies from a boy that works at the convenience shop, a boy that Rosie has a crush on. Too bad this boy has some problems of his own. The story has both speech bubbles and a stream of conscience from the main character.
That's pretty much the whole story. Nothing outstanding happens, it's really just the story of a young girl's summer. I almost put it down but the fact that it was a graphic novel made me keep reading because I knew it wouldn't take me that long to finish it. If this had been a novel I definitely would have put it down.
If you are going to pick it up, I would recommend it from the library. That way you save yourself some money if you aren't that crazy about it.