I hope everyone has a fantastic day!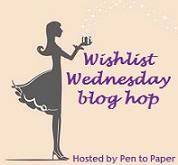 Wishlist Wednesday
is a book blog hop hosted by Dani at Pen to Paper Blog where we will post about one book per week that has been on our wish-list for some time, or just added (it's entirely up to you), that we can't wait to get off the wish-list and onto our wonderful shelves.
Spark
by Author
Series:
Swipe, #4
Release Date: November 5th 2013
Publisher: Thomas Nelson Publishers
Format: Paperback
Pages: 249
Genre: Young Adult - Sci-fi, Dystopian
Author: Website | Twitter | Facebook | Goodreads
Buy it:
Amazon | The Book Depository
In a future United States under the power of a charismatic leader, everyone gets the Mark at age thirteen. The Mark lets citizen shop, go to school, and even get medical care--but without it, you're on your own. Few refuse to get the Mark. Those who do . . . disappear.
Parents are looking for fiction that makes Christianity exciting for kids. This series is an alternative to the Hunger Games series and other dark dystopian fiction. It's packed with action and intrigue, but the message is written from a Christian worldview.
Logan Langly went to get his Mark but backed out at the last minute. Ever since, he's been on the run from government agents and on a quest to find his sister Lily, who disappeared when she went to get her Mark five years ago. His journey leads him to befriend the Dust, a network of Markless who oppose the iron-grip rule of the government. On the way to the capital to find Lily, the Dust receive some startling information from the Markless community, warning that humanity is now entering the End of Days.
"Spark" introduces nine-year-old Ali, a beggar living in the Dark Lands city of al-Balat. Ali meets a stranger who gives her his tablet, a portal to a tech world that Ali never knew existed. But one day, the tablet begins to communicate "back" to her--and takes her on a journey that will cross her path with exiled Logan Langly, Chancellor Cylis, and the fierce battle for power that spans reality and the virtual world.
So as I was making this post I realized that this book has already been released! I read the first one from the library because I had gotten the 2nd for review from NetGalley. I also ended up getting the third and have been waiting to read this one! I didn't see it on NetGalley this time around. I will have to go request this from the library now!!
Here are my reviews of the first three if you would like to check them out
Have you read this book? What are your thoughts on it?