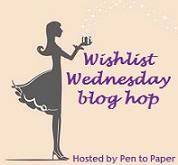 Dani at
Pen to Paper
Blog where we will post about one book per week that has been on our wishlist for some time, or just added (it's entirely up to you), that we can't wait to get off the wishlist and onto our wonderful shelves.
Inside Out
by Maria V Snyder

Paperback
, 315 pages
Published April 1st 2010 by Harlequin
Goodreads|Amazon
Keep Your Head Down.
Don't Get Noticed.
Or Else.

I'm Trella. I'm a scrub. A nobody. One of thousands who work the lower levels, keeping Inside clean for the Uppers. I've got one friend, do my job and try to avoid the Pop Cops. So what if I occasionally use the pipes to sneak around the Upper levels? The only neck at risk is my own…until I accidentally start a rebellion and become the go-to girl to lead a revolution.
I really want this book, more specifically this book with this cover. I like the other cover of this book but I don't like the other cover for the second book so I will just stick to this cover. Having two different covers would drive me nuts.
Really all the motivation I needed for wanting this book came from the 5 star rating that Misty from thebookrat.com gave it on Goodreads. Not to mention it is a YA Dystopian/post-apocalyptic (I love saying that word lol).
That really is it. I solely based my wanting of this book on her recommendation and the summary from Goodreads.
J
Have you read this book?? Would you recommend it?