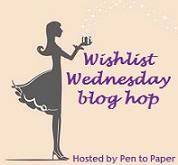 Dani at
Pen to Paper
Blog where we will post about one book per week that has been on our wishlist for some time, or just added (it's entirely up to you), that we can't wait to get off the wishlist and onto our wonderful shelves.
Across the Universe
by Beth Revis

Hardcover,
416 pages
Published January 11th 2011 by Razorbill
Goodreads|Amazon
A love out of time. A spaceship built of secrets and murder.


Seventeen-year-old Amy joins her parents as frozen cargo aboard the vast spaceship Godspeed and expects to awaken on a new planet, three hundred years in the future. Never could she have known that her frozen slumber would come to an end fifty years too soon and that she would be thrust into the brave new world of a spaceship that lives by its own rules.

Amy quickly realizes that her awakening was no mere computer malfunction. Someone, one of the few thousand inhabitants of the spaceship, tried to kill her. And if Amy doesn't do something soon, her parents will be next.

Now Amy must race to unlock Godspeed's hidden secrets. But out of her list of murder suspects, there's only one who matters: Elder, the future leader of the ship and the love she could never have seen coming.
I am probably one of the few people that haven't read this book yet. I'm not sure why it really didn't catch my attention at first. I thought it was just some teenage love story but after actually reading the synopsis and hearing some people talk about it I want to pick it up.
I, of course, will wait for a really good sale or I hope to find it at HPB but if that doesn't happen then Christmas is just around the corner.