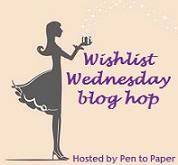 Wishlist Wednesday is a book blog hop hosted by Dani at

Pen to Paper Blog

where we will post about one book per week that has been on our wishlist for some time, or just added (it's entirely up to you), that we can't wait to get off the wishlist and onto our wonderful shelves.
Passing Strange (Generation Dead #3)
by Daniel Waters

Hardcover
, 386 pages
Published June 1st 2010 by Hyperion Book CH
Goodreads|Amazon
Karen DeSonne is used to pretending to be something she's not. All her life, she's passed as a normal all-American teenager; with her friends, with her family, and at school. Passing cost her the love of her life. And now that Karen's dead, she's still passing - this time, as "alive."
Meanwhile, Karen's dead friends have been fingered in a high-profile murder, causing a new round of anti-zombie regulations that have forced nearly all of Oakvale's undead into hiding. Karen soon learns that the "murder" was a hoax, staged by Pete Martinsburg and his bioist zealots. Obtaining enough evidence to expose the fraud and prove her friends' innocence means doing the unthinkable: betraying her love by becoming Pete's girlfriend. Karen's only hope is that the enemy never realizes who she really is - because the consequences would be even worse than death.
I want this book so bad! I've been waiting for it to come out in paperback and now I've been stalking Half Priced Books hoping to find it like I did the first two. I need to finish this series.
This was the first zombie themed series I have read. Well, technically it is the only one I have read. Nonetheless I like it.
If all else fails I'll get it for my birthday or Christmas. I will probably have to re-read the books if I wait any longer than that.
Have you read this series?
What did you think of it?