Walking Disaster
by
Jamie McGuire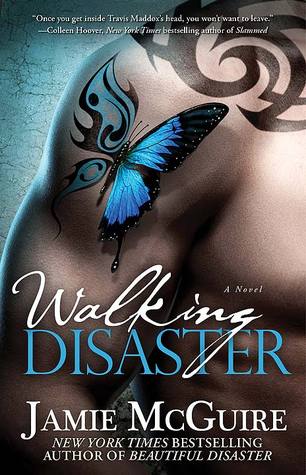 Series:
Beautiful, #2
Release Date: April 2nd 2013
Publisher:

Atria Books
Format: Paperback
Genre: New Adult – Contemporary Romance
Source: My Collection
Author: Website | Twitter | Facebook | Goodreads
Buy it: Amazon | The Book Depository
Add it: Goodreads
Finally, the highly anticipated follow-up to the New York Times bestseller Beautiful Disaster.
Can you love someone too much?
Travis Maddox learned two things from his mother before she died: Love hard. Fight harder.
In Walking Disaster, the life of Travis is full of fast women, underground gambling, and violence. But just when he thinks he is invincible, Abby Abernathy brings him to his knees.
Every story has two sides. In Beautiful Disaster, Abby had her say. Now it's time to see the story through Travis's eyes.
Walking Disaster is the second book in the Beautiful four book series of companion novels. It is the same story as Beautiful Disaster but is told from Travis's point of view. I know a lot of people were not fans of Travis and rated the last book poorly because of his anger problems. I went over all of this in my review of the first book; check it out HERE, so I won't go into too much detail about it. I did however enjoy this book more than the first one.
I will say that even though these are companion books, I do recommend reading Beautiful Disaster first. There are some parts that happen and it's was nice to know what Abby had been thinking during the scene. There was also a pretty big part that wasn't in this book! It was briefly mentioned but I thought that was a pretty big flaw and is one of reasons that I knocked a star off. I would have really liked to see what was going through Travis's mind during something that was actually bad. If you read the first book, then you know that Travis obviously has an anger problem. You see him grow more in this book compared to the first one because you are seeing his thoughts instead of just his reactions.
I was a little confused about the timing of this book. I felt like some parts moved a lot faster than in the previous book and then of course some parts were much slower. I ended up reading this book in two days rather than one like with the first book but I did enjoy it more. I'm don't think I mentioned this in my review of Beautiful Disaster but Abby was a tad bit annoying. I felt she made some stupid decisions and sometimes it seemed like what Travis would tell her would go in one ear and out another. So I preferred reading about Travis than Abby.
I really enjoy the writing in these books and I ended up reading the novella's, #1.5 & #2.5. However I don't think I will be picking up books 3 or 4. The next two books tell the stories of two more of the Maddox brothers and I really don't care to much about them. I liked the scenes they were in but I don't feel like a new book is worth reading. I might have a change of heart though.