The Truth About Alice
by Jennifer Mathieu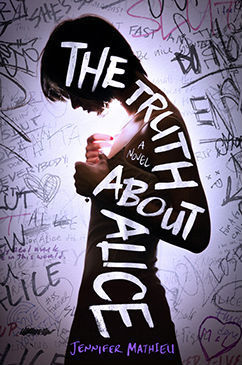 Everyone has a lot to say about Alice Franklin, and it's stopped mattering whether it's true. The rumors started at a party when Alice supposedly had sex with two guys in one night. When school starts everyone almost forgets about Alice until one of those guys, super-popular Brandon, dies in a car wreck that was allegedly all Alice's fault. Now the only friend she has is a boy who may be the only other person who knows the truth, but is too afraid to admit it. Told from the perspectives of popular girl Elaine, football star Josh, former outcast Kelsie, and shy genius Kurt, we see how everyone has a motive to bring – and keep – Alice down.
The Truth About Alice
is a fantastic book. This book has four points of view Elaine O'Dea, Kelsie, Josh, ad Kurt. All these people have different things to say about Alice Franklin. They all live in the small town of Healey and everyone knows that Alice slept with two guys at a party, Brandon Fitsimmons, high school quarterback and Tommy, some college sophomore. Brandon, dies in a car accident soon after when Alice was sexting him. Everyone knows everything about Alice but nobody knows the truth and Alice doesn't even try to fight back.
Elaine O'Dea is the popular girl in school. She loves her small town and it was her party that caused the commotion that started it all for Alice. Kelsie is a former outcast who will do anything to stay in the popular crowed with Elaine, including talking about her former best friend Alice. Kelsie was a nerd at her old school and became the "runner up" popular girl when she moved to Healey. Popular enough that people know her and want to hang out with her but she doesn't quite live up to Elaine's popularity. She was sick at home during the party at Elaine's house. Josh was Brandon's friend and the wide receiver on the High School football team. He was in the car when the accident happened and told Brandon's mom that Alice was sexting him when he crashed. He's known Alice for years. Finally we have Kurt Morelli, Brandon's next door neighbor. He is super smart and orphaned when he was young and is living with his grandmother. He has had a crush on Alice and is the only one that is nice to her.
This book is not a fluffy read. It focuses on slut shaming, abortion and bullying, and I think it does a fantastic job at it. It definitely shows that you should not believe everything you hear. This book really blew me away. Enough so that I rated it something and the more I thought about it and the more I talked about I decided to bump the rating up! That never happens. I really recommend picking up this book. The author did a fantastic job and I really enjoyed the writing and how everything was laid out. I will definitely be picking up more books by Jennifer Mathieu. I read this book as an egalley and I fully plan on going and buying a copy to add to my shelf. That way I can reread the parts that I liked!
*This book was provided by the publisher in exchange for an honest review.