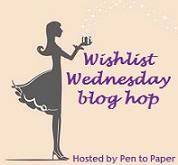 Wishlist Wednesday
is a book blog hop hosted by Dani at
Pen to Paper
Blog where we will post about one book per week that has been on our wish-list for some time, or just added (it's entirely up to you), that we can't wait to get off the wish-list and onto our wonderful shelves.
In the near future, at a moment no one will notice, all the dazzling technology that runs our world will unite and turn against us. Taking on the persona of a shy human boy, a childlike but massively powerful artificial intelligence known as Archos comes online and assumes control over the global network of machines that regulate everything from transportation to utilities, defense and communication.

In the months leading up to this, sporadic glitches are noticed by a handful of unconnected humans – a single mother disconcerted by her daughter's menacing "smart" toys, a lonely Japanese bachelor who is victimized by his domestic robot companion, an isolated U.S. soldier who witnesses a 'pacification unit' go haywire – but most are unaware of the growing rebellion until it is too late.

When the Robot War ignites -- at a moment known later as Zero Hour -- humankind will be both decimated and, possibly, for the first time in history, united. Robopocalypse is a brilliantly conceived action-filled epic, a terrifying story with heart-stopping implications for the real technology all around us…and an entertaining and engaging thriller unlike anything else written in years
For this week's Wishlist Wednesday, I picked something completely random off of my wishlist on Goodreads. This book just sounded sort of intriguing to me. I mean really, if the world is not killed off by people, it will probably be from robots, so this is totally plausible. The cover is sort of creepy but the title isn't very original and I'm not the biggest fan. I think it could have used some work. I am also not sure if this is an adult novel or YA. Either way, its sounds like it could be neat.
Have you read this book yet? What are your thoughts on it?