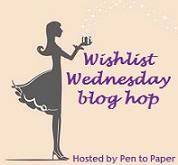 Wishlist Wednesday
is a book blog hop hosted by Dani at
Pen to Paper
Blog where we will post about one book per week that has been on our wish-list for some time, or just added (it's entirely up to you), that we can't wait to get off the wish-list and onto our wonderful shelves.
A groundbreaking YA from the award-winning author of As Simple as Snow

Adam Strand isn't depressed. He's just bored. Disaffected. So he kills himself—39 times. No matter the method, Adam can't seem to stay dead; he wakes after each suicide alive and physically unharmed, more determined to succeed and undeterred by others' concerns. But when his self-contained, self-absorbed path is diverted, Adam is struck by the reality that life is an ever-expanding web of impact and forged connections, and that nothing—not even death—can sever those bonds.

In stark, arresting prose, Gregory Galloway finds hope and understanding in the blackest humor.
This book sounds fantastic, a YA contemporary novel with that wonderful bit of drama, my favorite.

When I first heard of this book I immediately thought of the cheerleader from the TV show Hero's, the one that could try and kill herself but immediately be healed. I'm sure this book is nothing like that show but the thought is still there. I am wondering how he is being healed and whether everyone knows he is doing this. I haven't seen this book in my library or a bookstore so that is what is keeping me from buying it. I'm not usually an online buyer unless there are a few books I am planning on getting.
The ratings on Goodreads seem to be sort of all over the place and I haven't seen any of the people that I read on blogs or watch on YouTube talk about this book. So I will really be going into this one blind.
Have you read this book yet? What are your thoughts on it?