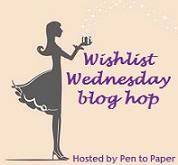 Wishlist Wednesday
is a book blog hop hosted by Dani at
Pen to Paper
Blog where we will post about one book per week that has been on our wish-list for some time, or just added (it's entirely up to you), that we can't wait to get off the wish-list and onto our wonderful shelves.
Anya could really use a friend. But her new BFF isn't kidding about the "Forever" part.
Of all the things Anya expected to find at the bottom of an old well, a new friend was not one of them. Especially not a new friend who's been dead for a century.
Falling down a well is bad enough, but Anya's normal life might actually be worse. She's embarrassed by her family, self-conscious about her body, and she's pretty much given up on fitting in at school. A new friend—even a ghost—is just what she needs.
Or so she thinks. Spooky, sardonic, and secretly sincere,

Anya's Ghost

is a wonderfully entertaining debut from author/artist Vera Brosgol.
This book sounds so good. I've heard from quite a few booktubers that this is indeed a really good book. I love graphic novels so this one is pretty high up on my list of those. OH and Misty over at The Boot Rat rated a 5 star. I trust a lot of what she says about books. I think I have mentioned her quite a few times so that has to say something.
Have you read this book yet? What are your thoughts on it?