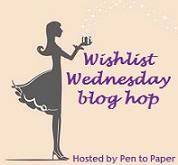 Wishlist Wednesday
is a book blog hop hosted by Dani at
Pen to Paper
Blog where we will post about one book per week that has been on our wish-list for some time, or just added (it's entirely up to you), that we can't wait to get off the wish-list and onto our wonderful shelves.
Hysteria by Megan Miranda
Hardcover, 336 pages
Published February 5th 2013 by Walker Childrens
Goodreads | Amazon | The Book Depository
Mallory killed her boyfriend, Brian. She can't remember the details of that night but everyone knows it was self-defense, so she isn't charged. But Mallory still feels Brian's presence in her life. Is it all in her head? Or is it something more? In desperate need of a fresh start, Mallory is sent to Monroe, a fancy prep school where no one knows her . . . or anything about her past.But the feeling follows her, as do her secrets. Then, one of her new classmates turns up dead. As suspicion falls on Mallory, she must find a way to remember the details of both deadly nights so she can prove her innocence-to herself and others.

In another riveting tale of life and death, Megan Miranda's masterful storytelling brings readers along for a ride to the edge of sanity and back again.
This book sounds like it has some great potential but after doing some research on Goodreads it looks as though it doesn't really live up to it. I would still like to test it out or myself because I would really like to pick up some more stand-alone novels. There are so many series that I have started and not finished!
Have you read this book yet? What are your thoughts on it?