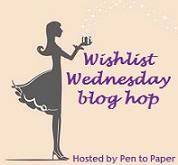 Wishlist Wednesday
is a book blog hop hosted by Dani at
Pen to Paper
Blog where we will post about one book per week that has been on our wish-list for some time, or just added (it's entirely up to you), that we can't wait to get off the wish-list and onto our wonderful shelves.
Until three months ago, everything about sixteen-year-old Camelia's life had been fairly ordinary: decent grades; an okay relationship with her parents; and a pretty cool part-time job at an art studio downtown. But when Ben, the mysterious new guy, starts junior year at her high school, Camelia's life becomes far from ordinary.
Rumored to be somehow responsible for his ex-girlfriend's accidental death, Ben is immediately ostracized by everyone on campus. Except for Camelia. She's reluctant to believe he's trouble, even when her friends try to convince her otherwise. Instead she's inexplicably drawn to Ben...and to his touch. But soon, Camelia is receiving eerie phone calls and strange packages with threatening notes. Ben insists she is in danger, and that he can help – but can he be trusted? She knows he's hiding something...but he's not the only one with a secret.
"A boy to admire from afar, a girl you want to befriend, a novel to
keep you turning the pages because you won't know who to trust. Laurie Faria Stolarz's DEADLY LITTLE SECRET is a blend of mystery, chills, and forbidden touches--one captivating story you have to experience." - Kelly Parra, author of INVISIBLE TOUCH
This book has been on my wishlist for a while now. It sounds pretty interesting and I like the covers of this series. That's one reason why I haven't picked it up yet. This is one of those series with 5 books. I can barely handle trilogies let alone series with that many books. I don't think I have even finished a trilogy yet!
Have you read this book? What are your thoughts on it?