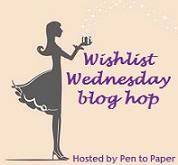 Wishlist Wednesday
is a book blog hop hosted by Dani at
Pen to Paper
Blog where we will post about one book per week that has been on our wish-list for some time, or just added (it's entirely up to you), that we can't wait to get off the wish-list and onto our wonderful shelves.
Mila 2.0
by Debra Driza

Mila 2.0, #1

Hardcover
,

480 pages


Expected publication: March 12th 2013 by Katherine Tegen Books

Goodreads|Amazon
Mila 2.0
is the first book in an electrifying sci-fi thriller series about a teenage girl who discovers that she is an experiment in artificial intelligence.
Mila was never meant to learn the truth about her identity. She was a girl living with her mother in a small Minnesota town. She was supposed to forget her past —that she was built in a secret computer science lab and programmed to do things real people would never do.
Now she has no choice but to run—from the dangerous operatives who want her terminated because she knows too much and from a mysterious group that wants to capture her alive and unlock her advanced technology. However, what Mila's becoming is beyond anyone's imagination, including her own, and it just might save her life.
Mila 2.0 is Debra Driza's bold debut and the first book in a Bourne Identity–style trilogy that combines heart-pounding action with a riveting exploration of what it really means to be human. Fans of I Am Number Four will love Mila for who she is and what she longs to be—and a cliffhanger ending will leave them breathlessly awaiting the sequel.
I have been seeing this book so much lately! People in the UK are getting it from NetGalley and it is driving me crazy! I can't wait to get this. I love the cover! This will probably be a book I buy when it comes out. Luckily I don't have to wait too much longer. The one bummer is that it says right in the synopsis that it has a big cliffhanger!
Were you on of the lucky ones that got to read this book? What are your thoughts on it?