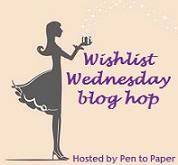 Wishlist Wednesday
is a book blog hop hosted by Dani at
Pen to Paper
Blog where we will post about one book per week that has been on our wish-list for some time, or just added (it's entirely up to you), that we can't wait to get off the wish-list and onto our wonderful shelves.
Unwind
by Neil Shusterman

Unwind, #1

Hardcover
, 335 pages
Published November 6th 2007 by Simon & Schuster Books for Young Readers

Goodreads|Amazon
The Second Civil War was fought over reproductive rights. The chilling resolution: Life is inviolable from the moment of conception until age thirteen. Between the ages of thirteen and eighteen, however, parents can have their child "unwound," whereby all of the child's organs are transplanted into different donors, so life doesn't technically end. Connor is too difficult for his parents to control. Risa, a ward of the state is not enough to be kept alive. And Lev is a tithe, a child conceived and raised to be unwound. Together, they may have a chance to escape and to survive.
I really had never heard of this book until the sequel started making its rounds on YouTube. Everyone seemed to really be raving about it so it got me interested. It sounds like a really good book. The rating on Goodreads is really good too, so you have to trust that. The cover is a little creepy too. I can't wait to get my hands on this book.
Have you read this book yet? What are your thoughts on it?