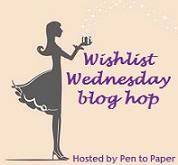 Wishlist Wednesday
is a book blog hop hosted by Dani at
Pen to Paper
Blog where we will post about one book per week that has been on our wish-list for some time, or just added (it's entirely up to you), that we can't wait to get off the wish-list and onto our wonderful shelves.
1984
by George Orwell

Paperback
, 328 pages
Published July 1950 by Signet Classics (first published 1949)

Goodreads|Amazon
Written in 1948,
1984
was George Orwell's chilling prophecy about the future. And while the year 1984 has come and gone, Orwell's narrative is timelier than ever.
1984
presents a startling and haunting vision of the world, so powerful that it is completely convincing from start to finish. No one can deny the power of this novel, its hold on the imaginations of multiple generations of readers, or the resiliency of its admonitions. A legacy that seems only to grow with the passage of time.
I have heard from quite a few people that this is the original dystopian novel. I have only read a couple dystopian books so that intrigues me. I don't think I have heard anyone say anything bad about this book.
If I do buy it this is definitely the cover I want. I have seen this copy at Walmart and I almost bought it but ended up putting it down.
Have you read this book yet? What are your thoughts on it?