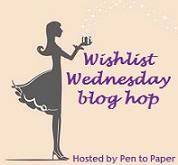 Wishlist Wednesday
is a book blog hop hosted by Dani at
Pen to Paper
Blog where we will post about one book per week that has been on our wish-list for some time, or just added (it's entirely up to you), that we can't wait to get off the wish-list and onto our wonderful shelves.
Lessons From a Dead Girl
by Jo Knowels

Hardcover
, 215 pages
Published October 9th 2007 by Candlewick

Goodreads|Amazon
An unflinching story of a troubled friendship — and one girl's struggle to come to terms with secrets and shame and find her own power to heal.
Leah Greene is dead. For Laine, knowing what really happened and the awful feeling that she is, in some way, responsible set her on a journey of painful self-discovery. Yes, she wished for this. She hated Leah that much. Hated her for all the times in the closet, when Leah made her do those things. They were just practicing, Leah said. But why did Leah choose her? Was she special, or just easy to control? And why didn't Laine make it stop sooner? In the aftermath of the tragedy, Laine is left to explore the devastating lessons Leah taught her, find some meaning in them, and decide whether she can forgive Leah and, ultimately, herself.
This looks like such an interesting book. I haven't heard anything about it which makes me want to read it even more. I love going into a book with no expectations. That way I can't be disappointed. This sounds like it will probably be one of those "deep reads". Which I tend to like.