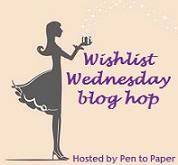 Wishlist Wednesday
is a book blog hop hosted by Dani at
Pen to Paper
Blog where we will post about one book per week that has been on our wish-list for some time, or just added (it's entirely up to you), that we can't wait to get off the wish-list and onto our wonderful shelves.
Burn Bright
by Marianne de Pierres
Paperback
, 316 pages
Published March 1st 2011 by Random House Australia

Goodreads
Into a world of wild secrets and deadly pleasures comes a girl whose innocence may be her greatest strength.

In Ixion music and party are our only beliefs. Darkness is our comfort. We have few rules but they are absolute . . .

Retra doesn't want to go to Ixion, the island of ever-night, ever-youth and never-sleep. Retra is a Seal – sealed minds, sealed community. She doesn't crave parties and pleasure, experience and freedom.

But her brother Joel left for Ixion two years ago, and Retra is determined to find him. Braving the intense pain of her obedience strip to escape the only home she's ever known, Retra stows away on the barge that will take her to her brother.

When she can't find Joel, Retra finds herself drawn deeper into the intoxicating world of Ixion. Come to me, whispers a voice in her head. Who are the Ripers, the mysterious guardians of Ixion? What are the Night Creatures Retra can see in the shadows? And what happens to those who grow too old for Ixion?

Retra will find that Ixion has its pleasures, but its secrets are deadly. Will friendship, and the creation of an eternal bond with a Riper, be enough to save her from the darkness?

Listen well, baby bats. Burn bright, but do not stray from the paths. Remember, when you live in a place of darkness you also live with creatures of the dark.
Ahhhh I want this book so bad! As far as I can tell it is not available in the US yet and I wish it would be! I can't even get it from The Book Depository!
The book sounds great but look at the cover! It's beautiful!
It makes me sad that I don't even have the option to buy it. If anyone knows where I can buy it let me know!!
Are you one of the lucky ones that have this book? What are your thoughts on it?