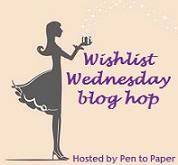 Wishlist Wednesday
is a book blog hop hosted by Dani at
Pen to Paper
Blog where we will post about one book per week that has been on our wish-list for some time, or just added (it's entirely up to you), that we can't wait to get off the wish-list and onto our wonderful shelves.
Splintered by A. G. Howard
Hardcover,

384 pages


Expected publication: January 1st 2013 by Amulet Books
Goodreads|Amazon
This stunning debut captures the grotesque madness of a mystical under-land, as well as a girl's pangs of first love and independence. Alyssa Gardner hears the whispers of bugs and flowers—precisely the affliction that landed her mother in a mental hospital years before. This family curse stretches back to her ancestor Alice Liddell, the real-life inspiration for Lewis Carroll's

Alice's Adventures in Wonderland
. Alyssa might be crazy, but she manages to keep it together. For now.

When her mother's mental health takes a turn for the worse, Alyssa learns that what she thought was fiction is based in terrifying reality. The real Wonderland is a place far darker and more twisted than Lewis Carroll ever let on. There, Alyssa must pass a series of tests, including draining an ocean of Alice's tears, waking the slumbering tea party, and subduing a vicious bandersnatch, to fix Alice's mistakes and save her family. She must also decide whom to trust: Jeb, her gorgeous best friend and secret crush, or the sexy but suspicious Morpheus, her guide through Wonderland, who may have dark motives of his own.
Ok, so this book hasn't actually been released yet but I want it soooo bad!! I love everything involving the story of Alice in Wonderland.
I mean what is not to want about this book?! The cover is GORGEOUS!. The synopsis sounds awesome. It's the crazy side of Alice which is one of the parts that I like best about the story. I love the nonsense about her adventures in Wonderland. This looks like it would be a good take on it.
I tried to request this from NetGalley but my request was declined. I think I was momentarily distraught. I know have to wait until January and see what everyone else thinks about it. This might be the first book I ever preorder.
What are your thoughts on this book?