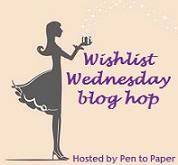 Wishlist Wednesday
is a book blog hop hosted by Dani at
Pen to Paper
Blog where we will post about one book per week that has been on our wish-list for some time, or just added (it's entirely up to you), that we can't wait to get off the wish-list and onto our wonderful shelves.
The Truth About Forever by Sarah Dessen
Paperback
, 374 pages
Published May 11th 2004 by Penguin Group Inc.

Goodreads|Amazon
A long, hot summer...

That's what Macy has to look forward to while her boyfriend, Jason, is away at Brain Camp. Days will be spent at a boring job in the library, evenings will be filled with vocabulary drills for the SATs, and spare time will be passed with her mother, the two of them sharing a silent grief at the traumatic loss of Macy's father.

But sometimes unexpected things can happen—things such as the catering job at Wish, with its fun-loving, chaotic crew. Or her sister's project of renovating the neglected beach house, awakening long-buried memories. Things such as meeting Wes, a boy with a past, a taste for Truth-telling, and an amazing artistic talent, the kind of boy who could turn any girl's world upside down. As Macy ventures out of her shell, she begins to wonder, Is it really better to be safe than sorry?
This Wishlist Wednesday really covers any Sarah Dessen book. I haven't read anything written by her and I hear she's a great writer. I'm not a big fan of love contemporary books. I like something else to be going on too. So I'm hesitant to actually pick this up.
I chose this book in particular because it had the highest rating on Goodreads. I don't think I have come across a book that has had that high of a rating before so it must be good. If I find it in good condition at Half Priced Books I'm probably going to get it next time. They always have a bunch of her books but I'm not sure if I've seen this one.
Have you read this book yet? What are your thoughts on it?