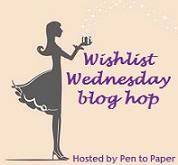 Wishlist Wednesday is a book blog hop hosted by Dani at
Pen to Paper
Blog where we will post about one book per week that has been on our wish-list for some time, or just added (it's entirely up to you), that we can't wait to get off the wish-list and onto our wonderful shelves.
Girl of Nightmares
by Kendare Blake
(Anna #2)

Hardcover
, 332 pages
Published August 7th 2012 by Tor Teen
Goodreads|Amazon
It's been months since the ghost of Anna Korlov opened a door to Hell in her basement and disappeared into it, but ghost-hunter Cas Lowood can't move on.

His friends remind him that Anna sacrificed herself so that Cas could live—not walk around half dead. He knows they're right, but in Cas's eyes, no living girl he meets can compare to the dead girl he fell in love with.

Now he's seeing Anna everywhere: sometimes when he's asleep and sometimes in waking nightmares. But something is very wrong...these aren't just daydreams. Anna seems tortured, torn apart in new and ever more gruesome ways every time she appears.

Cas doesn't know what happened to Anna when she disappeared into Hell, but he knows she doesn't deserve whatever is happening to her now. Anna saved Cas more than once, and it's time for him to return the favor.
I can't wait to get this book. I really enjoyed reading the first one. I actually haven't seen any reviews on this book yet but I'm still very interested in reading it.
The only thing I'm worried about is the romance part of this book. I wasn't crazy about the random romance in the first one and it's just weird.
Oh and I like the cover too. Not as much the first one but it is good though.
Have you read this one yet? What are your thoughts on it??