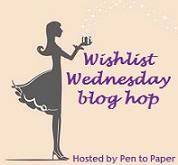 Wishlist Wednesday
is a book blog hop hosted by Dani at
Pen to Paper
Blog where we will post about one book per week that has been on our wish-list for some time, or just added (it's entirely up to you), that we can't wait to get off the wish-list and onto our wonderful shelves.
Under the Dome
by Stephen King

Paperback
, 1st U.S. Paperback Edition, 1074 pages
Published July 6th 2010 by Gallery Books (first published November 10th 2009)
Goodreads|Amazon
Just down Route 119 in Chester's Mill, Maine, all hell is about to break loose. . . .

On an entirely normal, beautiful fall day, a small town is suddenly and inexplicably sealed off from the rest of the world by an invisible force field. Planes crash into it and rain down flaming wreckage. A gardener's hand is severed as the dome descends. Cars explode on impact. Families are separated and panic mounts. No one can fathom what the barrier is, where it came from, and when—or if—it will go away. Now a few intrepid citizens, led by an Iraq vet turned short-order cook, face down a ruthless politician dead set on seizing the reins of power under the dome. But their main adversary is the dome itself. Because time isn't just running short. It's running out.

I have soft spot in my heart for Stephen King. I own a few of his books because I used to read him when I was younger. I'm not exactly sure why I quit for so long. I don't think I have ever read a Stephen King book that I thought was bad. So I have no fear that this book will be any different.
The only reason that I haven't bought this book yet is because it is over 1000 pages! That is more than a little intimidating! Yikes!
I like the paperback cover way more than the original hardcover. It seems much more dark and Stephen King-ish. I know I will buy this soon because I was fighting with myself the last time I went to Half Priced Books. I just don't know when I am going to have time to read something that huge!
I'm thinking of making next September's theme "Stephen King" because his birthday is September 21. I might just read a whole month of his books.
Anyway… Has anyone actually read this book? Is it worth the 1000 pages??