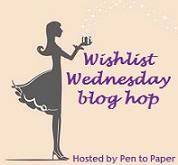 Wish-list Wednesday is a book blog hop hosted by Dani at

Pen to Paper

Blog where we will post about one book per week that has been on our wish-list for some time, or just added (it's entirely up to you), that we can't wait to get off the wish-list and onto our wonderful shelves.
Orphaned into the household of her Aunt Reed at Gateshead, subject to the cruel regime at Lowood charity school, Jane Eyre nonetheless emerges unbroken in spirit and integrity.

She takes up the post of governess at Thornfield, falls in love with Mr. Rochester, and discovers the impediment to their lawful marriage in a story that transcends melodrama to portray a woman's passionate search for a wider and richer life than Victorian society traditionally allowed.

With a heroine full of yearning, the dangerous secrets she encounters, and the choices she finally makes, Charlotte Bronte's innovative and enduring romantic novel continues to engage and provoke readers ...
Ok I have a confession... I have never read Jane Eyre or pretty much any of those type of classic books.. I know I'm bad. I have them on my kindle app but I would love to have some really nice copies that way I have a nice collection on my bookshelf. Unfortunately I am so picky that I have yet to find one with covers that I really like.
I really have no other excuse to why I haven't read it. I really just want to read it because it's a classic and everyone seems to love it. So, I'm just going to stop here so I don't embarrass myself anymore. ;-)