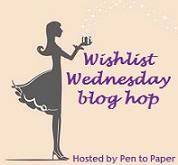 Wishlist Wednesday is a book blog hop hosted by Dani at
Pen to Paper
Blog where we will post about one book per week that has been on our wishlist for some time, or just added (it's entirely up to you), that we can't wait to get off the wishlist and onto our wonderful shelves.
Deadly Cool
by Gemma Halliday
Goodreads|Amazon

Paperback
, 303 pages
Published October 11th 2011 by HarperTeen
Hartley Grace Featherstone is having a very bad day. First she finds out that her boyfriend is cheating on her with the president of the Herbert Hoover High School Chastity Club. Then he's pegged as the #1 suspect in a murder. And if that weren't enough, now he's depending on Hartley to clear his name.

But as much as Hartley wouldn't mind seeing him squirm, she knows he's innocent, and she's the only one who can help him. Along with her best friend, Sam, and the school's resident Bad Boy, Chase, Hartley starts investigating on her own. But as the dead bodies begin to pile up, the mystery deepens, the suspects multiply, and Hartley begins to fear that she may be the killer's next victim.
This was one of the first books I added to my wishlist on Goodreads.

This is the first book in the "Deadly Cool" series. The cover attracted me to it first. I think it was the girls blue eyes. I always wished I could have blue eyes like that. I own so many romance novels where the main female character ends up being the killer's next victim. So I am of course drawn to this one too.
What do you think of this book?