Zita the Spacegirl
by Ben Hatke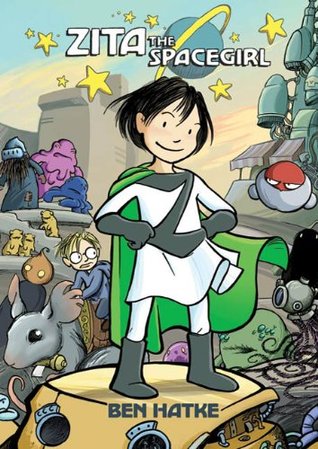 Series:
Zita the Spacegirl, #1
Release Date: February 1st 2011
Publisher:

First Second


Format: Paperback
Pages: 192
Genre: Middle Grade – graphic novel, science fiction
Source: Library
Author: Website | Twitter | Facebook | Goodreads
Buy it: Amazon | The Book Depository
Add it: Goodreads
Zita's life took a cosmic left turn in the blink of an eye.

When her best friend is abducted by an alien doomsday cult, Zita leaps to the rescue and finds herself a stranger on a strange planet. Humanoid chickens and neurotic robots are shocking enough as new experiences go, but Zita is even more surprised to find herself taking on the role of intergalactic hero. Before long, aliens in all shapes and sizes don't even phase her. Neither do ancient prophecies, doomed planets, or even a friendly con man who takes a mysterious interest in Zita's quest.

Zita the Spacegirl is a fun, captivating tale of friendship and redemption from Flight veteran Ben Hatke. It also has more whimsical, eye-catching, Miyazaki-esque monsters than you can shake a stick at.(
This is book one in the Zita the Spacegirl trilogy. If you saw my review that I posted yesterday then you would have read that I picked that book up on recommendation from Misty over at The Book Rat. This is another book (along with the sequel reviewed below) that I have picked up on her recommendation. She hasn't failed me yet!
The book starts out with Zita and her friend, Joseph, are out playing when a meteor crashes into the field. In this meteor is what looks like a button. Against the arguments of Joseph, Zita decides to push the button which opens up a portal and giant tentacles come out and suck her friend up in it. This of course scares the crap out of Zita and after a little bit she pushes the button again and jumps through the portal to try and save her friend. She is transported to another world and she soon discovers that this world is in danger. She makes some friends (including one that is not so much her friend) and takes on the task of saving her friend.
The friends in this book are great. There is a giant monster type animal named Strong Strong who is pretty funny. There is also a giant mouse who hates his real name, and a robot that refuses to do what he is programed to do. I really liked all of the characters in this book.
This book has the kind of artwork that I really enjoy. This book was a really fun read and I highly recommend it. I enjoyed this book so much that I went right into the second book. (which is reviewed below.)
Legends of Zita the Spacegirl
by Ben Hatke
Series:
Zita the Spacegirl, #2
Release Date: September 4th 2012
Publisher:

First Second
Format: Paperback
Pages: 209
Genre: Middle grade – graphic novel, science fiction
Source: Library
Author: Website | Twitter | Facebook | Goodreads
Buy it: Amazon | The Book Depository
Add it: Goodreads
Zita must find her way back to earth...but her space adventures have made her a galactic megastar! Who can you trust when your true self is overshadowed by your public image? And to make things worse...Zita's got a robot double making trouble--while wearing her face!
Zita needs to find her way back home but she has turned into a star with all that she has done to help. This of course means that people want her autograph and there is even a movie out about her! When Zita discovers a robot that can make itself look just like her she uses it to her advantage and escapes for a little fun away from everyone. This backfires when the robot decides that it wants to be her forever! This forces Zita into a rather precarious situation and everything starts to go haywire for her and mouse.
This sequel is another big adventure for Zita and it involves all of the same characters from the first book and introduces a couple new ones too. I really enjoyed this one just as much as the first one and I really can't wait to get my hands on the third book!