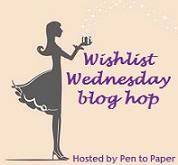 Wishlist Wednesday
is a book blog hop hosted by Dani at Pen to Paper Blog where we will post about one book per week that has been on our wish-list for some time, or just added (it's entirely up to you), that we can't wait to get off the wish-list and onto our wonderful shelves.
Alm
ost Dead
by Rebecca A. Rogers
Series:
Dead,#1
Release Date: September 15th 2013
Publisher: Createspace
Format: Paperback
Pages: 246
Genre: Young Adult – Fantasy, Paranormal
Author: Website | Twitter | Facebook | Goodreads
Buy it: Amazon | The Book Depository
Add it: Goodreads
Seventeen-year-old Flora Mackey is not exactly thrilled to wake up from a car accident and find out she's a ghost. Making this lifelike hell even worse is being trapped with her arch enemy and collision partner, Laney Tipps. The two normally couldn't get along if their lives depended on it, but now they have no choice.
After recovering from the initial shock of seeing their lifeless bodies—and that they can't escape each other—Flora and Laney have to find a way out of the twisted, gray realm. But they quickly learn that the farther they stray from their motionless corpses, the weaker they become. Luckily Sara, a spirit guide, shows up to help. Sara informs them they'll have to wait for someone in their city to die so they can take their place in the land of the living.
What's scarier than waiting in purgatory? Time. If Flora and Laney don't return to the physical world and leave clues for their families that they're still alive, they'll never be found. Which sucks, because once their bodies give out, their souls will be permanently stuck in the afterlife.
I'm not sure where I first saw this book but it sounds really good. There are good ratings on Goodreads and nobody I follow has read or reviewed it so I am pretty much going blind into this one. This is also a duology which I love.
Have you read this book? What are your thoughts?