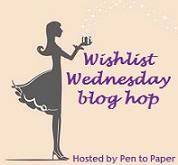 Wishlist Wednesday
is a book blog hop hosted by Dani at Pen to Paper Blog where we will post about one book per week that has been on our wish-list for some time, or just added (it's entirely up to you), that we can't wait to get off the wish-list and onto our wonderful shelves.
The Lake and the Library
by S.M. Beiko
Release Date
:
May 1st 2013
Publisher: ECW Press
Format: Paperback
Pages: 160
Author:
Website
|
Twitter
|
Facebook
|
Goodreads
Wishing for something more than her adventureless life, 16-year-old Ash eagerly awaits the move she and her mother are taking from their dull, drab life in the prairie town of Treade. But as Ash counts the days, she finds her way into a mysterious, condemned building on the outskirts of town—one that has haunted her entire childhood with secrets and questions. What she finds inside is an untouched library, inhabited by an enchanting mute named Li. Brightened by Li's charm and his indulgence in her dreams, Ash becomes locked in a world of dusty books and dying memories, with Li becoming the attachment to Treade she never wanted. This haunting and romantic debut novel explores the blurry boundary between the real and imagined with a narrative that illustrates the power and potency of literacy.
I stumbled across this book around the time it came out and it caught my attention. Then fact that it had Library in the title and was talking about an untouched library I couldn't resist adding it to my wish list.
Have you read this book yet? What are your thoughts on it?