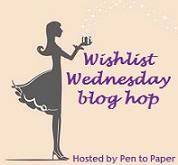 Wishlist Wednesday
is a book blog hop hosted by Dani at
Pen to Paper
Blog where we will post about one book per week that has been on our wish-list for some time, or just added (it's entirely up to you), that we can't wait to get off the wish-list and onto our wonderful shelves.
Bone, Vol 1: Out from Boneville
by Jeff Smith
Series:
Bone #1: Issues 1-6
Release Date: February 1st 2005
Publisher:Scholastic
Format: Paperback
Pages: 140
Author: Website | Twitter | Facebook | Goodreads
Buy it: Amazon | The Book Depository
Add it: Goodreads
After being run out of Boneville, the three Bone cousins, Fone Bone, Phoney Bone, and Smiley Bone, are separated and lost in a vast uncharted desert.
One by one, they find their way into a deep, forested valley filled with wonderful and terrifying creatures...
Humor, mystery, and adventure are spun together in this action-packed, side-splitting saga. Everyone who has ever left home for the first time only to find that the world outside is strange and overwhelming will love Bone.
This is pretty much a children's graphic novel but it looks cute! I see this book every time I look in my grocery stores book section and I always want to pick it up but I never do. I actually saw it for really cheap at HPB but it was damaged so I passed on it. I'm hoping to find it there again in better condition.
Have you read this book yet? What are your thoughts on it?