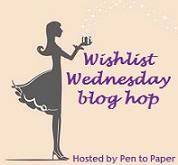 Wishlist Wednesday
is a book blog hop hosted by Dani at
Pen to Paper
Blog where we will post about one book per week that has been on our wish-list for some time, or just added (it's entirely up to you), that we can't wait to get off the wish-list and onto our wonderful shelves.
Curses! A F**ked Up Fairytale
by J.A. Kazimer
Series:
F***ed-UpFairytale, #1
Release Date: February 28th 2012
Publisher: Kensington
Format: Paperback
Pages: 320
Author: Website | Twitter | Facebook | Goodreads
Buy it: Amazon | The Book Depository
Add it: Goodreads
Definitely "not" for baby's bedtime reading, this hilarious and irreverent take on classic fairy tales--think "Shrek" for grown-ups--combines humor, mystery, and characters only a fairy godmother could love.
The "F word" is probably one of my favorite curse words. So the fact that this book has it in the title is intriguing right off the bat. I love fairytales too so that is a bonus. Then to find out there is a series! This is a must have! Oh and I love the cover too.
Have you read this book yet? What are your thoughts on it?