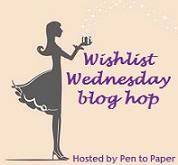 Wishlist Wednesday
is a book blog hop hosted by Dani at
Pen to Paper
Blog where we will post about one book per week that has been on our wish-list for some time, or just added (it's entirely up to you), that we can't wait to get off the wish-list and onto our wonderful shelves.
Callie is at an October keg party in the woods, when she notices that her friend Katherine has gone missing. The kids spread out to look for her and Callie finds her, lying on a path, with a big, bloody fake knife in her. She reaches for the knife and raises it, only to discover, to her horror, that it is real. At that moment, another of the search party stumbles on them, and takes a photo of Callie holding the bloody knife. Now she is the suspect in a grisly murder. How can she prove her innocence - and find the true murderer?
I picked up the first book in this trilogy on a complete whim. It was a short book and sounded interesting so I read it and ended up really enjoying it. The problem is I think it is hard to find the next two books in the series in Hardcover. (I'm not even sure they made them in hardcover). I'm a stickler for matching books. This book follows a different girl from the same high school I believe so I might have to reread the first one even though I don't' think they are actually connected. They might mention people and I can't even remember one name from the first book.
Have you read this book yet? What are your thoughts on it?