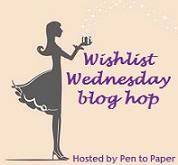 Wishlist Wednesday
is a book blog hop hosted by Dani at Pen to Paper Blog where we will post about one book per week that has been on our wish-list for some time, or just added (it's entirely up to you), that we can't wait to get off the wish-list and onto our wonderful shelves.
The Year of Shadows
by Claire Legrand
Release Date
:
August 27th 2013
Publisher: Simon & Schuster Books for Young Readers
Format: Hardcover
Pages: 416
Author: Website | Twitter | Goodreads
Buy it: Amazon | The Book Depository
Add it: Goodreads
Olivia Stellatella is having a rough year.
Her mother left, her neglectful father -- the maestro of a failing orchestra -- has moved her and her grandmother into his dark, broken-down concert hall to save money, and her only friend is Igor, an ornery stray cat.
Just when she thinks life couldn't get any weirder, she meets four ghosts who haunt the hall. They need Olivia's help -- if the hall is torn down, they'll be stuck as ghosts forever, never able to move on.
Olivia has to do the impossible for her shadowy new friends: Save the concert hall. But helping the dead has powerful consequences for the living . . . and soon it's not just the concert hall that needs saving.
The first time I saw this author was when I found her debut novel The Cavendish Home for Boys and Girls. I haven't read it yet but heard it was good for people who enjoyed Miss Peregrine's Home for Peculiar Children. Since that is the book that got me into reading YA I am definitely intrigued by that book. Then I also saw this book and thought that it sounded like a good middle grade read also. It has a really good rating on Goodreads but it looks like not many people have read it. I have never seen it in a store either!
Have you read this book yet? What are your thoughts on it?