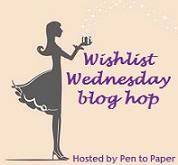 Wishlist Wednesday
is a book blog hop hosted by Dani at
Pen to Paper
Blog where we will post about one book per week that has been on our wish-list for some time, or just added (it's entirely up to you), that we can't wait to get off the wish-list and onto our wonderful shelves.
Uncle Shelby's ABZ Book
by Shel Silverstein
Uncle Shelby's ABZ Book (ISBN 067121148X) is a satirical alphabet book by Shel Silverstein. First published in 1961, it is sometimes described as "subversive". The cover on some editions of the book read "A primer for adults only" while other editions read "A primer for tender young minds" instead.
Who wouldn't want an adult alphabet book?! I love Shel Silversteins writing and I would love to own all of his books. I actually hadn't heard of this one until recently so this one needs to be added to my shelf!
Have you read this book yet? What are your thoughts on it?