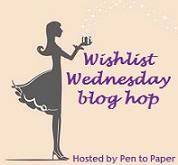 Wishlist Wednesday
is a book blog hop hosted by Dani at
Pen to Paper
Blog where we will post about one book per week that has been on our wish-list for some time, or just added (it's entirely up to you), that we can't wait to get off the wish-list and onto our wonderful shelves.
In Sloane's world, true feelings are forbidden, teen suicide is an epidemic, and the only solution is The Program.
Sloane knows better than to cry in front of anyone. With suicide now an international epidemic, one outburst could land her in The Program, the only proven course of treatment. Sloane's parents have already lost one child; Sloane knows they'll do anything to keep her alive. She also knows that everyone who's been through The Program returns as a blank slate. Because their depression is gone—but so are their memories.
Under constant surveillance at home and at school, Sloane puts on a brave face and keeps her feelings buried as deep as she can. The only person Sloane can be herself with is James. He's promised to keep them both safe and out of treatment, and Sloane knows their love is strong enough to withstand anything. But despite the promises they made to each other, it's getting harder to hide the truth. They are both growing weaker. Depression is setting in. And The Program is coming for them.
I remember when this book was making its rounds with ARC's and it definitely sounded like something I would like. Everyone seemed to be enjoying it so when it was released it just blew up and everywhere I looked someone was hauling this!
I am really surprised that the only place I have seen this book is at Barnes & Noble and I won't buy it there because I refuse to pay full price for books and I won't make an online order unless I have other books to buy too so I can get free shipping. Or at least make it worth my while. My birthday is coming up though and this is on the very top of my list.
Have you read this book yet? What are your thoughts on it?