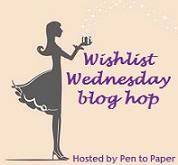 Wishlist Wednesday
is a book blog hop hosted by Dani at
Pen to Paper
Blog where we will post about one book per week that has been on our wish-list for some time, or just added (it's entirely up to you), that we can't wait to get off the wish-list and onto our wonderful shelves.
After a bizarre accident, Ingrid Waverly is forced to leave London with her mother and younger sister, Gabby, trading a world full of fancy dresses and society events for the unfamiliar city of Paris.
In Paris there are no grand balls or glittering parties, and, disturbingly, the house Ingrid's twin brother, Grayson, found for them isn't a house at all. It's an abandoned abbey, its roof lined with stone gargoyles that could almost be mistaken for living, breathing creatures.
And Grayson has gone missing.
No one seems to know of his whereabouts but Luc, a devastatingly handsome servant at their new home.
Ingrid is sure her twin isn't dead—she can feel it deep in her soul—but she knows he's in grave danger. It will be up to her and Gabby to navigate the twisted path to Grayson, a path that will lead Ingrid on a discovery of dark secrets and otherworldly truths. And she'll learn that once they are uncovered, they can never again be buried.

Well of course I want this book strictly for the cover. Ok maybe that's not the only reason, it does sound pretty good. I like books set in Paris because I would love to go there some day. Books about missing people and twins are usually pretty good too. I actually haven't really heard anyone talk about it though so I don't have too much to go on. That doesn't stop me from still wanting it though.
Have you read this book yet? What are your thoughts on it?