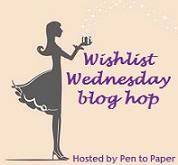 Wishlist Wednesday
is a book blog hop hosted by Dani at
Pen to Paper
Blog where we will post about one book per week that has been on our wish-list for some time, or just added (it's entirely up to you), that we can't wait to get off the wish-list and onto our wonderful shelves.
Smile
by Raina Telgemeier
Series:
Smile #1
Release Date: February 1st 2010
Publisher: GRAPHIX
Format: Hardcover
Pages: 224
Author: Website | Twitter | Facebook | Goodreads
Buy it: Amazon | The Book Depository
Add it: Goodreads
From the artist of BSC Graphix comes this humorous coming-of-age true story about the dental drama that ensues after a trip-and-fall mishap.
Raina just wants to be a normal sixth grader. But one night after Girl Scouts she trips and falls, severely injuring her two front teeth. What follows is a long and frustrating journey with on-again, off-again braces, surgery, embarrassing headgear, and even a retainer with fake teeth attached. And on top of all that, there's still more to deal with: a major earthquake, boy confusion, and friends who turn out to be not so friendly.
I picked up this book at the library and sort of flipped through it but ended up putting it down. It's still there because I've seen it the next few times I've been and I have been contemplating getting it. I have so many books to read though! The reason I ended up wanting it even after I put it down the first time was because I saw it on a list for Best Graphic Novels for Children on Goodreads. Now obviously I am not a child but that hasn't stopped me from reading children's books so that's ok.
Have you read this book yet? What are your thoughts on it?