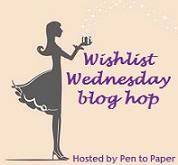 Wishlist Wednesday
is a book blog hop hosted by Dani at
Pen to Paper
Blog where we will post about one book per week that has been on our wish-list for some time, or just added (it's entirely up to you), that we can't wait to get off the wish-list and onto our wonderful shelves.
The Treachery of Beautiful Things
by Ruth Frances Long

Release Date
:
August 16 2012
Publisher: Dial Books
Format: Hardcover
Pages: 363
Author: Website | Twitter | Facebook | Goodreads
Buy it: Amazon | The Book Depository
Add it: Goodreads
A darkly compelling mix of romance, fairy tale, and suspense from a new voice in teen fiction
The trees swallowed her brother whole, and Jenny was there to see it. Now seventeen, she revisits the woods where Tom was taken, resolving to say good-bye at last. Instead, she's lured into the trees, where she finds strange and dangerous creatures who seem to consider her the threat. Among them is Jack, mercurial and magnetic, with secrets of his own. Determined to find her brother, with or without Jack's help, Jenny struggles to navigate a faerie world where stunning beauty masks some of the most treacherous evils, and she's faced with a choice between salvation or sacrifice--and not just her own.
It's the cover. It's 100% the cover. It does seem to have a pretty good rating on Goodreads, although I haven't heard anyone I follow or watch on YouTube actually talk about it. I don't really like reading the synopsis of a book so I really like to go by whether people recommend it or not. I almost bought it from Bookcloseouts last week but I ended up taking it out of my cart.
Have you read this book yet? What are your thoughts on it?