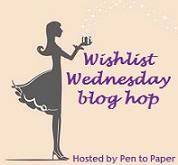 Wishlist Wednesday
is a book blog hop hosted by Dani at
Pen to Paper
Blog where we will post about one book per week that has been on our wish-list for some time, or just added (it's entirely up to you), that we can't wait to get off the wish-list and onto our wonderful shelves.
Cold Spell by Jackson Pearce

Fairytale Retellings, #4
Hardcover, 336 pages
Expected publication:
November 5th 2013 by Little, Brown Books for Young Readers
Kai and Ginny grew up together–best friends since they could toddle around their building's rooftop rose garden. Now they're seventeen, and their relationship has developed into something sweeter, complete with stolen kisses and plans to someday run away together.

But one night, Kai disappears with a mysterious stranger named Mora–a beautiful girl with a dark past and a heart of ice. Refusing to be cast aside, Ginny goes after them and is thrust into a world she never imagined, one filled with monsters and thieves and the idea that love is not enough.

If Ginny and Kai survive the journey, will she still be the girl he loved–and moreover, will she still be the girl who loved him?

Jackson Pearce, author of the acclaimed SISTERS RED and FATHOMLESS, has returned with a unique vision of Hans Christian Andersen's "The Snow Queen," one about power and redemption, failure and hope, and the true meaning of strength.
This is one of the few series that I am caught up on so I can't wait to read this final book. Not to mention that I really like this cover. This series was one that I actually really like the cover change but I still really liked the original. Of course it does bother me that my first two are the original covers but at least my third one is the new cover so I'll get over it.
I have never read The Snow Queen so I will need to do some research before I read this retelling. If this is as good as the first three then I have no fear that I will enjoy this one just as much. I hope to probably pick this up as a Christmas present since the release is pretty close.
Do you want to read this book? What are your thoughts on it?