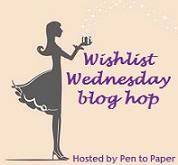 Wishlist Wednesday
is a book blog hop hosted by Dani at
Pen to Paper
Blog where we will post about one book per week that has been on our wish-list for some time, or just added (it's entirely up to you), that we can't wait to get off the wish-list and onto our wonderful shelves.
Possess by Gretchen McNeil
Hardcover, 379 pages
Published August 23rd 2011 by Balzer + Bray
Goodreads | Amazon | The Book Depository
Rule #1: Do not show fear.
Rule #2: Do not show pity.
Rule #3: Do not engage.
Rule #4: Do not let your guard down.
Rule #5: They lie.

Fifteen-year-old Bridget Liu just wants to be left alone: by her mom, by the cute son of a local police sergeant, and by the eerie voices she can suddenly and inexplicably hear. Unfortunately for Bridget, it turns out the voices are demons – and Bridget has the rare ability to banish them back to whatever hell they came from.

Terrified to tell people about her new power, Bridget confides in a local priest who enlists her help in increasingly dangerous cases of demonic possession. But just as she is starting to come to terms with her new power, Bridget receives a startling message from one of the demons. Now Bridget must unlock the secret to the demons' plan before someone close to her winds up dead – or worse, the human vessel of a demon king.
I have been back and forth with wanting or not wanting this book for a while now. I haven't really heard anybody talk about it but they ratings on Goodreads seem to vary. I have never read a demon book though and that is what intrigues me about this book. This is also a stand alone book which is nice every once in a while.
Have you read this book yet? What are your thoughts on it?