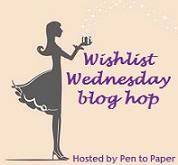 Wishlist Wednesday
is a book blog hop hosted by Dani at
Pen to Paper
Blog where we will post about one book per week that has been on our wish-list for some time, or just added (it's entirely up to you), that we can't wait to get off the wish-list and onto our wonderful shelves.
Shift by Em Bailey
Hardcover, 320 pages
Published May 22nd 2012 by EgmontUSA
Goodreads | Amazon | The Book Depository
Olive Corbett is not crazy. Not anymore.

She obediently takes her meds and stays under the radar at school. After "the incident," Olive just wants to avoid any more trouble, so she knows the smartest thing is to stay clear of the new girl who is rumored to have quite the creepy past.
But there's no avoiding Miranda Vaile. As mousy Miranda edges her way into the popular group, right up to the side of queen bee Katie – and pushes the others right out – only Olive seems to notice that something strange is going on. Something almost . . . parasitic. Either Olive is losing her grip on reality, or Miranda Vaile is stealing Katie's life.

But who would ever believe crazy Olive, the girl who has a habit of letting her imagination run away with her? And what if Olive is the next target?

A chilling psychological thriller that tears through themes of identity, loss, and toxic friendship, Shift will leave readers guessing until the final pages.
I love me some psychological thrillers. When I was in Middle/High School I would read Stephen King and pretty much any Nora Roberts romantic thriller. Especially ones where the person thinks they might be going crazy but they are sure it is real but nobody believes them. That is exactly what this book sounds like. It also has an almost 4 star rating on Goodreads however, it seems to be a love it or hate it thing. I really want to pick this up and find out for myself though.
Have you read this book yet? What are your thoughts on it?