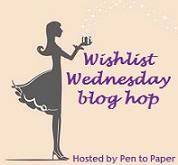 Wishlist Wednesday
is a book blog hop hosted by Dani at Pen to Paper Blog
where we will post about one book per week that has been on our wish-list for some time, or just added (it's entirely up to you), that we can't wait to get off the wish-list and onto our wonderful shelves.
If fate sent you an email, would you answer?

When teenage movie star Graham Larkin accidentally sends small town girl Ellie O'Neill an email about his pet pig, the two seventeen-year-olds strike up a witty and unforgettable correspondence, discussing everything under the sun, except for their names or backgrounds.

Then Graham finds out that Ellie's Maine hometown is the perfect location for his latest film, and he decides to take their relationship from online to in-person. But can a star as famous as Graham really start a relationship with an ordinary girl like Ellie? And why does Ellie want to avoid the media's spotlight at all costs?
During February I read The Statistical Probability of Love at First sight (review HERE) and I really enjoyed that story and the writing style. When I found out she had another book coming out I got pretty excited. This sounds pretty similar considering the other book also had two people meeting by chance. I can't wait to get my hands on this. The last sentence of the synopsis is very intriguing too. I would like to know what she may have done.
Have you read this book? What are your thoughts on it?