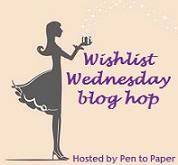 Wishlist Wednesday
is a book blog hop hosted by Dani at
Pen to Paper
Blog where we will post about one book per week that has been on our wish-list for some time, or just added (it's entirely up to you), that we can't wait to get off the wish-list and onto our wonderful shelves.
Insomnia
by J.R. Johansson
The Night Walkers, #1
Paperback
, 360 pages
Expected publication:
June 8th 2013 by Flux
Goodreads
|
Amazon
|
The Book Depository
It's been four years since I slept, and I suspect it is killing me.
Instead of sleeping, Parker Chipp enters the dream of the last person he's had eye contact with. He spends his nights crushed by other people's fear and pain, by their disturbing secrets—and Parker can never have dreams of his own. The severe exhaustion is crippling him. If nothing changes, Parker could soon be facing psychosis and even death.
Then he meets Mia. Her dreams, calm and beautifully uncomplicated, allow him blissful rest that is utterly addictive. Parker starts going to bizarre lengths to catch Mia's eye every day. Everyone at school thinks he's gone over the edge, even his best friend. And when Mia is threatened by a true stalker, everyone thinks its Parker.
Suffering blackouts, Parker begins to wonder if he is turning into someone dangerous. What if the monster stalking Mia is him after all?
This book comes out in June and I might just grab it on the day it comes out. It sounds so interesting and has a 4 star rating on Goodreads! I love the cover too, kind of creepy looking.
Are you going to read this book? What are your thoughts on it?