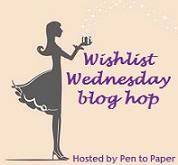 Wishlist Wednesday
is a book blog hop hosted by Dani at
Pen to Paper
Blog where we will post about one book per week that has been on our wish-list for some time, or just added (it's entirely up to you), that we can't wait to get off the wish-list and onto our wonderful shelves.
The Asylum for Wayward Victorian Girls
by Emilie Autumn

Hardcover, First Edition, 274 pages
Published December 15th 2009 by Emilie Autumn Ent. LLC
Goodreads | Emilie's Website
Presenting Emilie Autumn's long awaited autobiographical, reality-bending thriller, "The Asylum for Wayward Victorian Girls." This beautifully bound hardcover volume measures 8" x 11.5" and clocks in at a massive 274 fully illustrated pages. Positively packed with hand-written memoirs, photos, and paintings, this profoundly empowering epic not only deserves a place on your tea table, it is also one of the most complete accounts of bipolar disorder ever penned, and will take readers behind the doors of both modern day psych ward and Victorian insane asylum in this true life horror tale of madness, murder, and medical experimentation.
But reader beware: It's much easier to get into the Asylum than it is to get out.
Oh my goodness this book. I am a sucker for full page graphics. I found a blog that had snapshots of the pages and they looked amazing. Love the cover of this book too. The one major problem I have ran into… the only place I could find it is the author's website. It's ON SALE for $60! Yea on sale.. it's normally $75! That really makes me sad because I would love to get my hands on this. If you know where else I can find it online let me know!! I would love you forever!
J
Have you read this book? What are your thoughts on it?