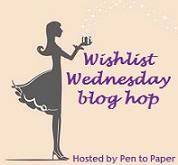 Wishlist Wednesday
is a book blog hop hosted by Dani at
Pen to Paper
Blog where we will post about one book per week that has been on our wish-list for some time, or just added (it's entirely up to you), that we can't wait to get off the wish-list and onto our wonderful shelves.
Something Strange and Deadly
by Susan Denard

Something Strange and Deadly, #1
Hardcover, 388 pages
Published
July 24th 2012 by HarperTeen
Goodreads | Amazon | The Book Depository
The year is 1876, and there's something strange and deadly loose in Philadelphia…
Eleanor Fitt has a lot to worry about. Her brother has gone missing, her family has fallen on hard times, and her mother is determined to marry her off to any rich young man who walks by. But this is nothing compared to what she's just read in the newspaper—
The Dead are rising in Philadelphia.
And then, in a frightening attack, a zombie delivers a letter to Eleanor…from her brother.
Whoever is controlling the Dead army has taken her brother as well. If Eleanor is going to find him, she'll have to venture into the lab of the notorious Spirit-Hunters, who protect the city from supernatural forces. But as Eleanor spends more time with the Spirit-Hunters, including their maddeningly stubborn yet handsome inventor, Daniel, the situation becomes dire. And now, not only is her reputation on the line, but her very life may hang in the balance.
I very rarely go for historical books because I just can't seem to relate with the characters. I believe that is why I don't tend to like classic books. This however sounds pretty interesting. I think it will depend on how the romance is in this book to decide whether I would like it or not. If the romance is a big thing then I have a feeling I won't like it nearly as much. The dead rising is just too good for me to pass up though. The fact that the second book is being released in July makes me want to find this even more. Hoping I can find this for a good price somewhere that way I won't feel too badly if I don't like it.
Have you read this book yet? What are your thoughts on it?