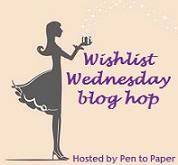 Wishlist Wednesday
is a book blog hop hosted by Dani at
Pen to Paper
Blog where we will post about one book per week that has been on our wish-list for some time, or just added (it's entirely up to you), that we can't wait to get off the wish-list and onto our wonderful shelves.
Diagnosed with Stage IV thyroid cancer at 13, Hazel was prepared to die until, at 14, a medical miracle shrunk the tumours in her lungs... for now.
Two years post-miracle, sixteen-year-old Hazel is post-everything else, too; post-high school, post-friends and post-normalcy. And even though she could live for a long time (whatever that means), Hazel lives tethered to an oxygen tank, the tumours tenuously kept at bay with a constant chemical assault.
Enter Augustus Waters. A match made at cancer kid support group, Augustus is gorgeous, in remission, and shockingly to her, interested in Hazel. Being with Augustus is both an unexpected destination and a long-needed journey, pushing Hazel to re-examine how sickness and health, life and death, will define her and the legacy that everyone leaves behind.
I don't think I need to talk about this book. Everybody and their brother have read it and I'm pretty sure I'm one of very few who hasn't. I'm not usually a contemporary reader but I haven't heard one bad thing about this book. I have read one other John Green book and really enjoyed it so I'm hoping if I ever get my hands on this one that I will enjoy it.
Have you read this book? What are your thoughts on it?