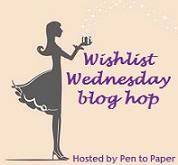 Wishlist Wednesday
is a book blog hop hosted by Dani at
Pen to Paper
Blog where we will post about one book per week that has been on our wish-list for some time, or just added (it's entirely up to you), that we can't wait to get off the wish-list and onto our wonderful shelves.
Fahrenheit 451
by Ray Bradbury

Paperback
, 50th Anniversary Edition, 190 pages
Published 1991 by Ballantine Books

Goodreads|Amazon
Guy Montag was a fireman whose job it was to start fires, and he enjoyed his job. He had been a fireman for ten years, and he had never questioned the pleasure of the midnight runs nor the joy of watching pages consumed by flames ... never questioned anything until he met a seventeen-year-old girl who told him of a past when people were not afraid.
Then he met a professor who told him of a future in which people could think. And Guy Montag suddenly realized what he had to do ...
I'm a little embarrassed to say I haven't read this book yet. Considering it's a classic but then again I haven't really read any classics. I specifically want this cover because It is the only good one I have seen.

It seems to have pretty good reviews from all the people I am friends with on Goodreads. (Go friend me there if you haven't yet!) Sounds like a pretty interesting book and I'm pretty sure I would like. I won't ever know unless I read it though!
Have you read this book yet? What are your thoughts on it?