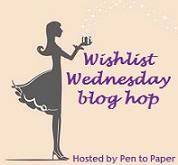 Wishlist Wednesday
is a book blog hop hosted by Dani at
Pen to Paper
Blog where we will post about one book per week that has been on our wish-list for some time, or just added (it's entirely up to you), that we can't wait to get off the wish-list and onto our wonderful shelves.
Animal Farm
by George Orwell
Paperback
, 141 pages
Published 1996 by Signet (first published 1945)

Goodreads|Amazon
As ferociously fresh as it was more than a half century ago, this remarkable allegory of a downtrodden society of overworked, mistreated animals and their quest to create a paradise of progress, justice, and equality is one of the most scathing satires ever published. As readers witness the rise and bloody fall of the revolutionary animals, they begin to recognize the seeds of totalitarianism in the most idealistic organization

and in the most charismatic leaders, the souls of the cruelest oppressors

.
This book goes along with last week's post. I really want to read more classics and I am bound and determined to do it. As with the last post I would prefer this cover. I have a thing for white covers for some reason. I could see how the synopsis of this book would turn some people off. I have heard some pretty good things about it though so I still want to give it a try.
Have you read this book yet? What are your thoughts on it?
If you like participating in Wishlist Wednesday check out my 2B Tuesday meme that focuses on a book that's been sitting on your shelf! I post one every week!