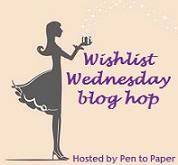 Wishlist Wednesday
is a book blog hop hosted by Dani at
Pen to Paper
Blog where we will post about one book per week that has been on our wish-list for some time, or just added (it's entirely up to you), that we can't wait to get off the wish-list and onto our wonderful shelves.
The Evolution of Mara Dyer
by Michelle Hodkin

(Mara Dyer #2)

Hardcover
, 544 pages
Published October 23rd 2012 by Simon & Schuster Books for Young Readers

Goodreads|Amazon
Mara Dyer once believed she could run from her past.

She can't.

She used to think her problems were all in her head.

They aren't.

She couldn't imagine that after everything she's been through, the boy she loves would still be keeping secrets.

She's wrong.

In this gripping sequel to The Unbecoming of Mara Dyer, the truth evolves and choices prove deadly. What will become of Mara Dyer next?
I loved the first book so much that I desperately need this book! I'm sure that if I get any gift cards for Christmas that I will be getting this book.
The ending of the first one was such a cliff hanger that I'm pretty sure I broke the floor with my jaw.
Have you read this book yet? What are your thoughts on it?
** If you like Wishlist Wednesday check out my
2B Tuesday
meme! Every week we talk about what books we just had to buy but haven't shown them any love yet! Talk about any book on your shelf or e-reader that is in your to-be-read pile!**